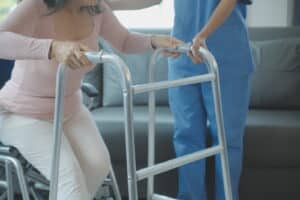 Have you ever wondered what advancements are being made in the world of elder care? The Department of Labor estimates that about 711,700 jobs for home care aides need to be filled each year to keep up with the demand.
Some areas have enough workers to cover a community's needs, but the situation can be tougher in areas with higher numbers of elderly residents. As demand increases, some communities are looking at alternatives. Here's what the future of elder care looks like with some of the technology being created.
AI Sensors
Some families are using AI to track their parents' movements and report anything out of the ordinary to their phones. AI sensors monitor when an older adult gets out of bed, opens the bedroom or bathroom door, turns on the water for a shower, opens the refrigerator or microwave, and goes outside.
This makes it easier to track if an older person is going through daily activities. If a sensor alerts you that your dad went outside and hasn't returned, you can ask a neighbor to see if he's doing okay. You could even use a phone to call him and direct him home if he's been in the sun too long.
While this may sound a lot like the camera system many families currently use, it's not going to rely on cameras. The thought of having more privacy is appealing to older adults, so it's more likely to be embraced by your dad.
Carebots
Japan has been using Carebots to keep older adults company and provide the home care services they need. The robots can remind their owner to take medications, join them on walks on paved, level sidewalks, help them out of bed, call for help, or get a drink for them. Carebots are limited, however, and need more work before they could do things like help in the shower or provide that human touch that's so important.
Self-Balancing Shoes
Developers have been working on a self-balancing shoe for several years. The shoe has a device in it that moves to help stabilize a person if they start to slip. If they're falling backward, the shoes' motion moves them forward to counteract the fall. The same is true of a forward fall.
These shoes aim to help older adults and people with balance issues stay upright and avoid a fall that could lead to serious issues. When the prototypes will move from testing to development is unknown, but when they do, it's going to be a game-changer in preventing common falls.
For now, make sure your dad has the support he needs to stay independent. An elder care aide can come to his home, help him with his ADLs and IADLs, and make sure he doesn't feel lonely or isolated. Call a home care agency to learn more about elder care services.
If you or an aging loved one are considering hiring elder care in Philadelphia, PA, please talk to the caring staff at Better Care Home Health Services LLC today. Serving individuals and their families in Philadelphia, Delaware, Montgomery, and Bucks counties. Call Today: (267) 766-5218
Latest posts by Abiba Namen
(see all)